I've been working the last few days on changing my blog layout and converting to the fall season decor. I have also finally created a blog button. It would give me a tickle if you would take one. Just copy the code from the button on my sidebar.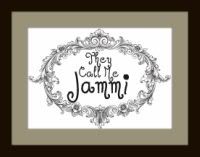 You might notice that I have placed the blog buttons that I have collected and put them into a marquee widget (this is a work in progress, as I have only a few buttons filed right now)...you can move your mouse over the button for the site you want to visit and the scroll will stop and allow you to click and link directly into a new window, without leaving my blog...in case you have not finished your visit. I've also added a marquee at the bottom of my blog with past Blog Parties from around Blogland...I will keep this updated as parties complete. This is a great way of checking back on last years parties for ideas. This would be very helpful as you prepare for Halloween decorating for instance. Again, just place your cursor over the button and click and you will be linked the party post on the appropriate blog. I hope you like the changes.
We had a great holiday weekend here at Jammi's place. We had some shopping, a cookout on Saturday, wiener roast on Sunday and a parade and Wii party on Monday.
We have been going to our hometown Labor Day Parade for 35 years. We always have breakfast as we capture our place early and wait for the parade to start.
My babies know how to work for the candy.
Mr. Photogenic got a little sleepy.
This little girl is just 6 years old and look at all the trophies she has won .